Yes, beautiful hair is healthy hair – healthy from the inside. The way we wash, dry, comb, and style our hair has a huge influence on it. Here you will find several tips on how to take care of your hair and protect it.
Magic combs
Early in the morning, when getting ready for a busy day, you are combing your hair. Combing is good for your hair, but we don't always do it right.
In hair combing, everything matters: the technique, the type, cleanliness, and material of the comb or brush, the frequency of the procedure and the condition of the hair. Do you always just one comb without sharing it?  Check your understanding of the combing process here.
Washing, drying, styling
Hair is pretty needy. It doesn't like high or low temperatures, or excessive washing, especially with shampoo. Chlorine and salts, which can be in tap water, are not good for it. To protect your hair, you should wash it less often, using gentle products and drying it quickly and carefully. Remember to use conditioner and special products while styling and drying it with a hairdryer. Don't set the tools for styling at the highest temperatures.
11 basic hair care rules and 7 recommendations for styling that will make your life easier. An article about the right choice of hair accessories.
The impact of hot or chemical straightening raises many questions. Yes, this procedure is harmful! But you can reduce the negative effects. Learn how.
The influence of cosmetics with silicones on the hair is still debatable. On one hand, different silicones carefully cleanse and moisten it, protecting from hot styling, sun, wind, and cold. Silicones help to preserve the color of the dyed hair. On the other hand, the constant use of silicones can weaken hair and cause problems with the scalp. How do you use silicones correctly? Read more about the pros and cons of hair extensions.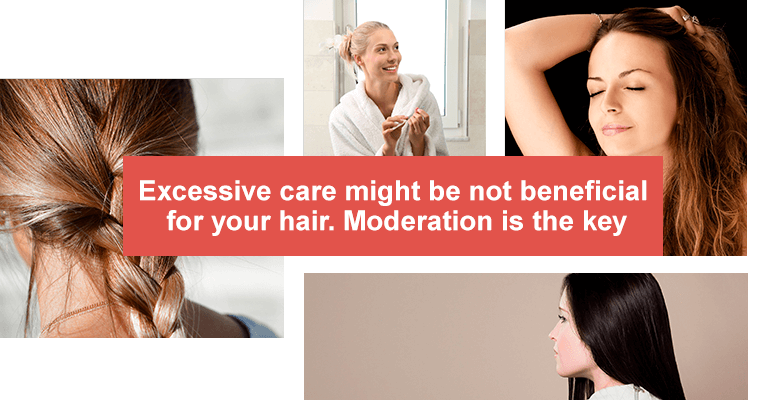 Special care
The body responds to the changes in weather, and adjusts all systems and organs (including hair) according to the climate. It is very important to also change how you care for your hair.
Everyone's hair is unique. Hair can be dry or normal; dark and light; thick or thin. Each feature is worthy of special attention and care.
Everyone will find information about hair care during the summer helpful. Nine simple and easy tips will provide a great effect! Don't forget to read about five tips for hair care during the winter.
Of course, dry hair needs special care and remedies. We offer several recommendations for the owners of this type of hair, recipes of natural homemade cosmetics, three magnificent masks for restoration, and a few more tips.
When hair is weak and brittle, there must be a reason for it. 11 tips for preventing brittle hair will help you figure out what causes it and what you need to do.
Everyone's hair is different. It is possible to take care of your hair at home and there is nothing difficult about it. See for yourself. All you need is to read our article about making a hair SPA at home.
Harmful dreadlocks
Have you seen ladies' hairstyles from the XVIII century? They amaze with their size and complexity. More likely, the hair of those aristocrats was suffering from that fashion.
Today, the hairstyles are not that complicated, but there are many other harmful fashion trends. For example, dreadlocks and African braids, or hairstyles with extensions. Our article will help you create safe hairstyles. It is well known that teenagers love to experiment with their hair most of all. Read more about how to take care of hair for teenagers.
The art of hair care is full of hidden obstacles, but they are quite realistic to comprehend. After all, what can be more important than the health, beauty, and long life of your hair?