Hair product commercials guarantee us beautiful, silky, and shiny hair in a short time.The components providing this magical result are nothing more than acid-containing compounds called silicones.
Silicone, also known as Dimethicone or Cyclomethicone, is a derivative of silicon that is found in glass, quartz, and sand. Silicone has been used in the production of cosmetics for hair since the early 1950s, and it is present in most hair products today.
Silicones are inorganic polydimethylsiloxane polymers. The molecule of this substance is characterized by flexibility with a high basis of repeating links and various lateral chains. Different groups of side chains form various types of silicone products. They have an oily and liquid consistency.
Classification of silicones and their features
Hair care cosmetic products, which include silicone, are widespread. Depending on the properties, they are divided into several types:
Dimethicone is a derivative of the new generation of silicones. These are water-insoluble oils that regulate the balance of moisture and nutrients, enveloping each hair with a protective film. They facilitate combing and add shine. Used in the manufacture of rinses, combination shampoos, and therapeutic hair cosmetics.
Polyol Dimethicone – silicones that are characterized by the formation of a significant amount of foam. They make hair smooth and soft. They are easily washed off with water and are most often part of shampoos.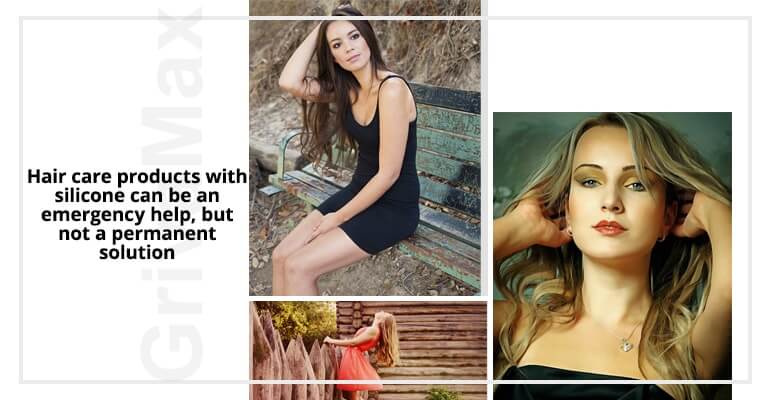 Amodimethicone have a regenerating and conditioning effect. They cover the hair scales, maintaining the brightness of the colored streaks.
Silicones of encapsulated type facilitate styling, additionally providing anti-thermal protection when using a hair dryer or curling iron.
Before using hair care cosmetics, you need to find out more about the ingredients and silicone types that are used in the product.
The benefits of silicones for hair
Products that include silicones can make your hair silky and smooth, which helps with combing and styling, and adds shine. Also, silicones protect your hair from over drying, the harmful impacts of ultraviolet rays, the wind, and the cold. They help to decrease the adverse effects of hair dyeing, curling, and straightening.
Silicone and hair damage
Despite the positive qualities, silicones can eventually damage the hair structure:
Silicones that cover hair and retain moisture are difficult to wash. After using silicones for a long time, your hair will get enveloped with a dense film that makes it dull and brittle.
Silicones don't treat your hair – they give your hair a temporary shine and silkiness that will disappear as soon as you stop using the product.
Products that are insoluble in water can be washed off only with shampoos containing sulfates.
Straight or wavy hair can look greasy with the constant use of water-soluble silicone products.
Skin contact with highly polymeric silicones can cause the formation of dandruff, and with regular use, become the cause of hair loss.
What is the safe way of applying silicone?
Experts recommend avoiding hair products with silicone content above 50%. Cosmetics with high-polymer silicone should be applied only to the ends of the strands, avoiding contact with the skin. Try to alternate hair conditioners and shampoos with silicones, and without them.
It is important to know that there are other, safer methods of hair restoration. For example, low-level laser therapy will positively affect the blood and lymph microcirculation.