There are many causes of hair loss. Most often, it is related to the natural aging process. Other reasons include various diseases or having a hereditary predisposition. Men are more prone to baldness, and with women, it is usually diffusive. Hair falls out from the entire scalp evenly. the volume decreases and you can see skin where hair becomes too thin. It's not surprising that women look for different methods to hide these defects caused by hair loss.
Basic accessories for hiding problems
Women's hairstyles are very diverse. Their main purpose is to add interesting detail for a more stylish look. The right hairstyle helps to not only distinguish beauty, but to also hide some imperfections. It's not so easy to conceal the signs of hair loss.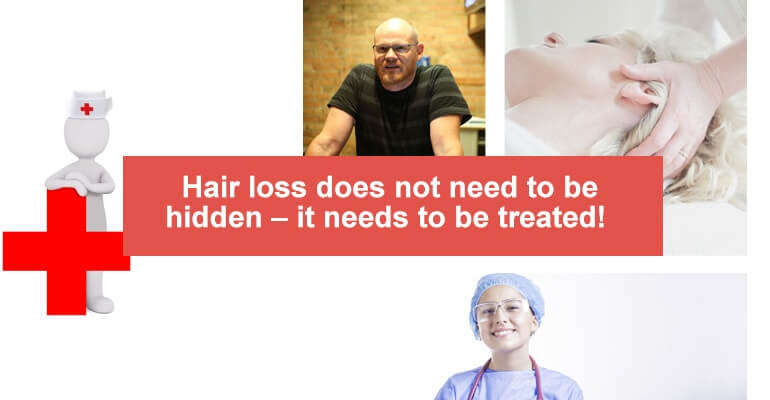 You can use various accessories to make hair loss less noticeable:
Hats are the best option for masking any issues with hair. In cold weather, there are no problems with wearing a hat outside. Indoors you can put on a light knitted fishnet hat. In summer, you can also protect your head with various hats. They not only visually hide all the possible hair flaws, but also protect it from the negative effects of ultraviolet radiation.
Scarves and bandannas are excellent solutions for different styles. These accessories are perfect for any season, both indoors and outdoors.
Wide bandages help to hide not only thin hair, but also bald patches. The selection of hair bandages is big, and you can choose solid or colorful patterns.
A wig is a solution recommended for people with serious baldness. Today, you can buy natural and artificial wigs which can surprise you with its quality and natural look. It is recommended to wear wigs only when you go out and socialize, but at home, it's better to give your scalp a "rest", letting it breathe. You can't wear a wig continuously for more than six hours, otherwise, it can cause irritation, itching, and a rash.
You can always make the signs of balding less noticeable with the help of artificial curls on hairpins, hair extensions or backcomb. Each of the above methods has its pros and cons.
Don't hide – you have to fight!
It is important to understand that concealing is only a temporary measure and not a solution. It is necessary to determine the cause of your worsening hair condition and hair loss in order to eliminate it.
With severe hair loss, you might need to try a surgical intervention, medications, and low-level laser therapy (which can be used in combination with other methods).