Everyone loves summer fun, but it can be dangerous to our hair and skin. Following these simple recommendations will help you not to lose the beauty and health of your hair during summer time.
Siesta
The midday heat, direct sunlight, dust and hot wind will dry out all the moisture from your hair. It will be a good idea to adopt a wonderful Spanish tradition of siesta – after-dinner rest. The sun is getting very cruel between 11 and 5 o'clock in the afternoon. So the best thing you can do is staying indoors during this period, even if you are not going to sleep.
Hats
If you can't avoid exposure to the sun, don't forget to grab a baseball cap, bandana, or hat. It is particularly important for the people who have light colored hair and skin. Wearing a hat will protect your hair from damage and prevent you from getting a sunstroke.
Sun protection products
Many of hair conditioners, styling sprays, and other hair cosmetics contain SPF, as well as face creams. Sun protection filters protect your hair and skin from ultraviolet radiation.
Tanning in the Shade
Beach lovers wouldn't like this idea. However, it's a perfect way to protect your skin and hair from burns, which is especially important for owners of blonde hair and light skin. If you are still slowly "roasting" yourself on the beach under the direct sunlight, remember, that effect of the sun is enhanced by water, which reflects the rays repeatedly.
Move under the shadow and even over there your skin will get a light tan. If you still can't resist being in the sun at least cover your head with a hat.
Shower after the sea or the pool
Sea water contains salt, and the pool water is full of chlorine. Neither of those components is good for your hair. Try to take a shower right after swimming and wash your hair with fresh water. If your hair is clean, then you don't need to use shampoo, just apply some moisturizing spray afterward (the perfect choice will be a product with SPF).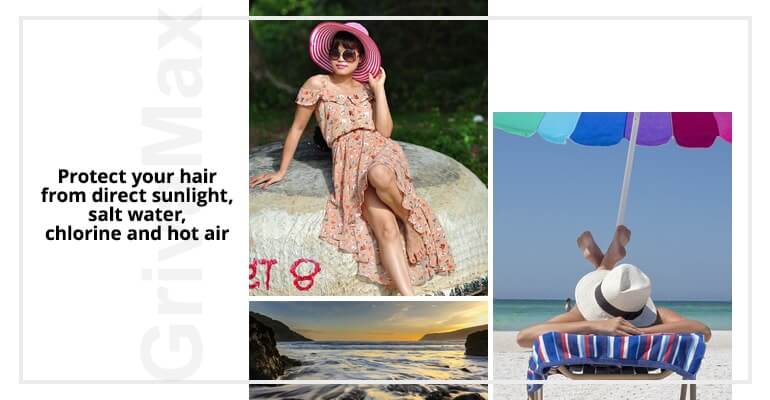 Gentle shampoo and conditioner
In summer we need washing and caring products that are free from aggressive ingredients. Look for organic cosmetics that contain good components. By the way, there are special shampoos against chlorinated water.
Intensive care
Your hair will gratefully accept any moisturizing or regenerating product during hot summer months. Besides a hair conditioner or after washing balm you can use masks, wraps, or indelible sprays. Our hair loves natural vegetable oils like jojoba, avocado, argan, coconut. Even food from your kitchen can be useful: lemon juice for rinsing, yogurt mask, masks with coffee (for brunettes) and green tea, etc. (12 natural ways to protect the hair).
Natural hairstyles
Our hair receives an excessive dosage of heat and sun every day during summer time. It would be cruel to add even more damage by using a hair dryer or flat iron. We recommend reducing hot styling at least during your summer vacation. Of course, don't forget using thermal protection.
Air humidification
Even if you are staying indoors, your hair can be affected by air-conditioners, which are drying the air in the room.The simplest hygrometer and air humidifier will help you to maintain a comfortable level of moisture for your hair and skin.