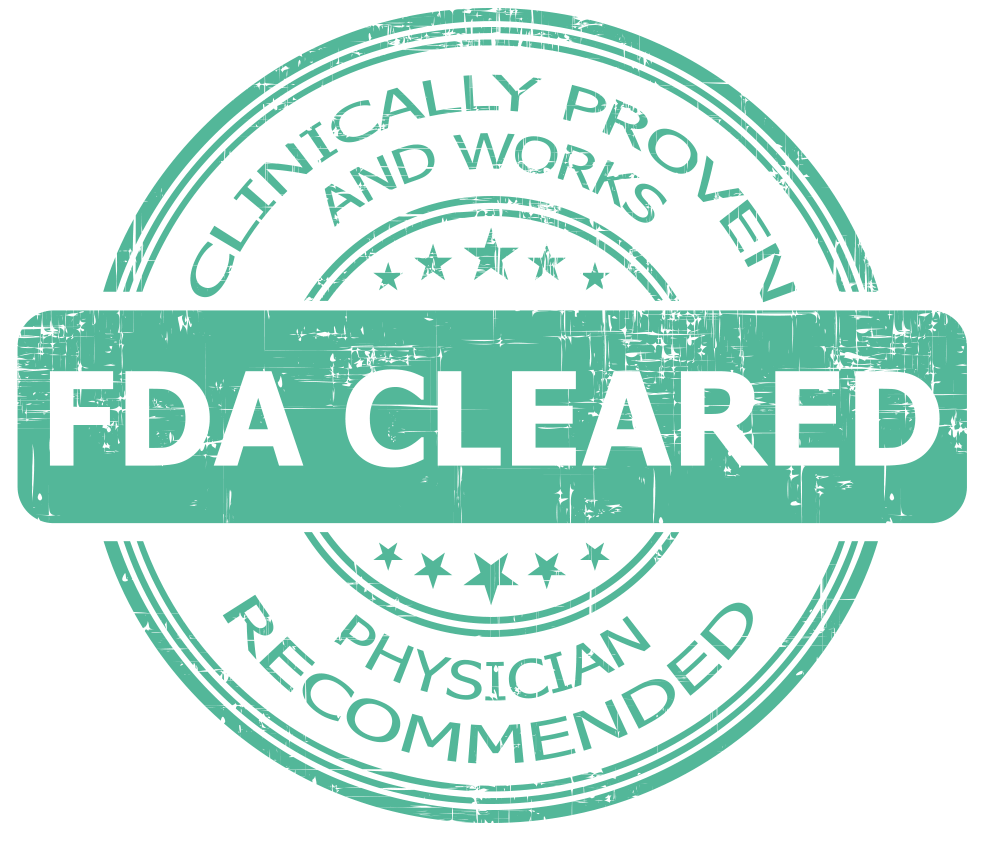 GrivaMax™ Hair Growth System FDA 510 (K) cleared for OTC sales in the United States.
Now our Laser Cap is currently available for sale worldwide including USA (view FDA clearance).
Sale!
GRIVAMAX LASER CAP 272 PRO
272 Laser Diodes
Flexible sports cap
Power bank battery
Easy-To-Use
Safe for men and women
Portability and mobility
Product Description
What makes the GrivaMax Laser Cap the best?
In the past decades, the LLLT has passed through series of developmental phases, and this has birthed the new advanced technology, and now you too have a Laser Cap. Our holistic helmet caters for all your hair issues at a time, with the 272 proprietary lasers structures for effective hair growth. The LLLT laser lights go down into the scalp, reaching the foundation of your hair follicles within 20 to 40 minutes treatment duration, similar to what you will normally get at a throat-cutting sum at top hair rejuvenation clinic. Because the energy levels and wavelengths are of similar effectiveness med-wise, your hair follicle cells are significantly stimulated to rejuvenate, re-grow and strengthen your hair.
GrivaMax Laser Cap safe in-home device use, designed and produced to treat thinning, loss hair and balding in Men and Women.
Our GrivaMax LLLT Cap with 272 diodes of full scalp coverage, perfectly helps improve your hair, accelerates growth, your hair will become thicker and more shiny.
The GrivaMax Laser Cap, which is a Low Level Laser Therapy (LLLT) appliance, is a safe kind of remedy that is worn in the head region like a coverlet. The device works to vitalize the hair scalp as well as the follicles in any phase of the circle of hair growth. The Laser Cap when compared with many other massive, but worthless laser caps, The Laser Cap is far more efficient, personal and more usable than other similar devices.
This light treatment stimulates the follicle cells of your hair, offering you a better cellular respiration. Good respiration of the cells goes further to improve the functionality of the follicles, thereby giving your hair a stronger, healthier and thicker outlook. Let your hair build your confidence.
With regular use of the GrivaMax, individuals can expect to see an improvement in hair condition within a 12-25 week period. The combination of features in the LLLT work together to deliver best-in-class results that can add life-changing confidence.
More features LLLT GrivaMax
Very important function – Programmed shutoff time (30-minutes)
272 laser diodes (each diode has the capacity to last for about 5000 to 6000 hours
One IC charges 4 pcs lasers which is much more stable for electric current and voltage
All IC in the laser cap itself which is more stable for the whole unit
High-end durable ABS cover and copper for cooling sheet is stronger of lasers
Power bank battery 5000 mAh of high capacity and much better than other 2200mAh
In a fully charged mode, the LLLT Cap can go for approximately 6 to 8 hair treatments – that is an estimate of 2 to 3 weeks on a single battery
USB cord (4 feet length)
! Never look directly at lasers once device is working and use on open scalp wounds!
! Never use the Laser Cap while battery is charging!
! Grivamax Laser Cap is powered only by branded Power bank battery!
ADDITIONAL INFORMATION
GrivaMax Cap Technical Specifications:
Laser-Cap device:
Number of lasers 272
Diode output 5 mW
Laser wavelength 650 nm
Total power 1360 mW
Output voltage 11.1 V
Pulse frequency 4.5 Hz
Total capacity 2.2 mAh
Power charger:

Output voltage 12.6 V
Output current 2000 mAh
Supply set:
GrivaMax Hair Growth Laser Cap 272 lasers
Flexible sports cap
Power bank battery
Clip-on battery case
Battery charger
USB cable
User manual
* The warranty does not apply to batteries of power bank (they can be replaced)
LASER DEVICES COMPARISON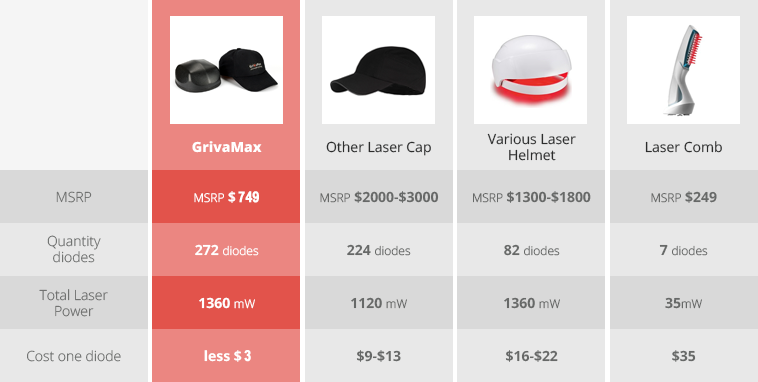 SHIPPING & PAYMENT
Shipping:
We believe that customers should never need to pay for shipping. So all our products come with FREE SHIPPING.
As soon as the payment is completed and cleared we will ship it as soon as possible. Please check individual listing for handling time (postage tab on eBay listing).
Free Shipping does not include customs fees and other local handling charges that may be imposed. These additional fees and charges that may be imposed through customs or local courier services are the customers responsibility
Payment:
We accept PayPal and credit/debit card.
If you don't have a PayPal account, do not worry because you can use your credit/debit cards using the PayPal platform without opening an account with them.
PayPal provides Buyer Protection so you can feel confident to buy from us.
PayPal also provides Seller Protection so we safe guard ourselves from fraudulent transactions.