It is important to choose the right way of treating baldness, considering all pros and cons, and different combinations of methods. Our unique guidebook will help you to learn more about the problem of hair loss and make the right choice of treatment.
First
If you don't have extra time read the general article. In the article, you will find the main proven and effective methods of treatment and the tests that your doctor will suggest you in order to determine the cause of hair loss.
Learn more about combining different medical methods of treatment. Of course, you should definitely consult your doctor, and receive a professional treatment plan before using different drugs.
Now when you know more about the problem you can expand the list of possible ways of treatment: read about main five and ten ways to fight baldness. Here you can find information about new drugs that have just appeared on the market and their effectiveness.
Non-surgical methods
The surgical table is not the best way to solve the problem. Good news is that expensive hair transplant is only needed when there are no alive follicles in the affected area left. In all other cases, there are still alternatives.
To begin with, there are two main ways that are approved by medical science. By the way, they can be combined (a link about a combination of methods above).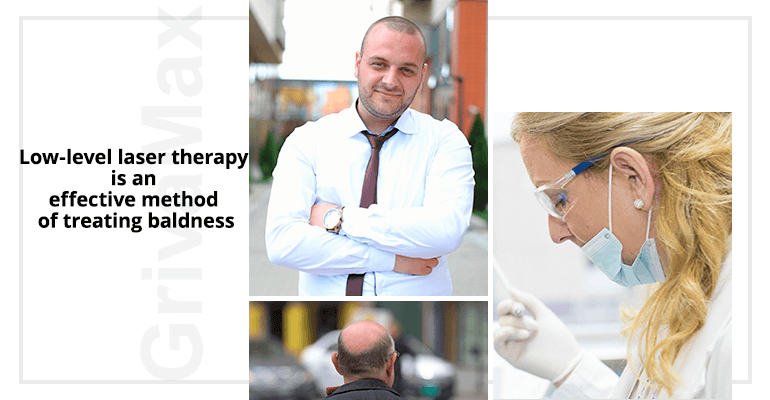 You can help your successful treatment and strengthen the effect of drugs and physiotherapy. Here are five products that your hair will definitely appreciate.
Learn more about healing nutrition.
We suggest the TOP-9 and TOP-10 simple ways that you can use yourself at home. Basically, these are natural remedies and even if their effectiveness is often not proven, they have been used by generations.
Learn more about gifts of nature in the review article.
Hair loss in women
Female hair loss might be related to hormonal changes such as maternity, menopause and etc. Therefore, it might be helpful to find out about five ways of treating female patterns of baldness, that includes specific and general methods.
What should we avoided
When we experience alopecia, we can react in different ways. The first reaction can be panic and sometimes just pessimistic ignorance of the existing problem. An article about typical mistakes will help you to follow the path towards the solution.
What about homeopathy?
Homeopathy has existed for a very long time. Pharmacies and stores sell homeopathic products produced by famous brands. The official science is still not quite approve the effectiveness of homeopathy. Is it worth to rely on it in the treatment of alopecia?
As you can see, there are many ways of treating hair loss.It is worth trying to combine several methods of treatment. It is your responsibility to regulate diet and lifestyle and properly care for your hair. The specialists will help you with the rest.