Hair transplantation is the last and ultimate measure in the fight against baldness. Consider this surgery if nothing else helps, or if it was suggested by a trichologist when other treatments are not successful.
If you have almost made up your mind about taking this step, it's time to check whether you took everything into consideration before having surgery.
Efficiency
Hair transplantation is effective:
For different types of baldness, efficiency may vary.
Each case is unique when it comes to results.
The result is not always achieved with the first operation.
More likely, you have already visited a dermatologist or trichologist and undergone a treatment course under their supervision. You have to ask their opinion about hair transplantation surgery and its effectiveness in your situation. The translatology specialist should also give you an accurate prognosis of the upcoming surgery.
Surgery method
Hair transplantation is performed by strip method (FUT) or Follicular extraction method (FUE) – more information can be found in this article. The strip method is cheaper and quicker compared to other methods. The recovery period is more challenging and longer, with more visible cosmetic defects. The FUT method is preferable with a severe form of baldness.
Surgery with the FUE method has been known for a long time, but it is more expensive. Recovery is faster, and the scars will be almost invisible. If the baldness area is small, then this method will work for you.
Surgeon's credibility
A true professional will be happy to show you all his diplomas, certificates, and awards. Successful doctors will have excellent reviews (you can search for them on forums and in social networks, etc.), and they always have a line of patients waiting for an operation.
Talk to the transplantation specialist, and feel free to ask him any question that you may have. Every detail matters, including whether or not he has had experience with the patients of your ethnicity before.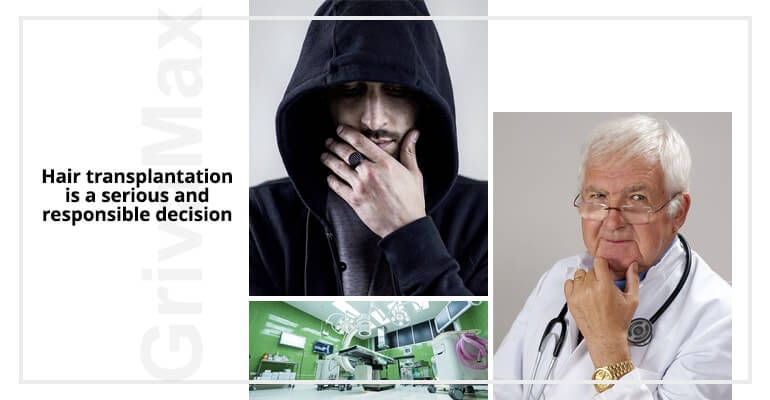 Clinic's credibility
The credibility of the doctor and the level of the clinic are not the same thing. Therefore, you should review those two factors separately.
First of all, you should make sure that the clinic has the legal right to conduct hair transplantation, and what documents confirm this.
The second thing to pay attention to is the reputation of the hospital, customer testimonials, and the atmosphere of the establishment in general. Try to visit the clinic personally, study its website, and search for more information from independent sources. Of course, you can't trust everything you find on the internet, but at least you will have something to think about.
Budget
Of course, this is a major factor, especially if we take into consideration the fact that this expensive surgery is usually not covered by health insurance. The higher the level of medical care that you are applying for, the more expensive the transplantation will be.
As a rule, clinics are ready to help the client by offering discounts, installments, or other types of benefits.
Complications and risks
The first thing you should find out before deciding to have surgery is the risks and possible complications. By signing the contract, you are giving official permission to be exposed to the potential risks of surgical intervention.
Medications, recovery, and restrictions
Other important details you should be aware of:
What medicines should be taken (and whether it is necessary) before, during, and after hair transplantation.
How long does recovery process last.
How soon will it be possible to go back to work.
How to take care of the scalp and protect it.
General restrictions during the surgery, before, and after it.
Tobacco products, alcohol, spicy foods, and intense exercises that might increase sweating are forbidden after the surgery.
Time for thinking
At highly-rated clinics, you will never feel rushed to make a decision about having surgery. Real professionals will never rush you; they will give you detailed information about the procedure, and definitely give you time to think.
Try not to hurry, and carefully analyze all information.
Think about it several times. If one question is left without an answer, choose an alternative method. If you take into consideration all possible factors, then you will have a higher chance to make the right decision, and your surgery is more likely to be successful.