Many trichologist patients are seriously thinking about hair transplantation. This is a fairly effective method, and in some cases, it is the only possible one. But not everything is so simple, because transplantation is still a surgical intervention. Let's talk about all the pros and cons.
Brief description of the procedure
The surgeon takes healthy follicles from the patient's donor areas and injects them into areas affected by alopecia.
There are two ways to do this:
During the strip method, a strip of the skin is cut from the occipital part of the head while under anesthesia. Then this strip is divided into grafts – small pieces with one or several hair follicles. Only grafts are transplanted to a bald patch, also with anesthesia.
With a modern, seamless (follicular) method, only hair bulbs are taken from the donor skin. One at the time, they are transplanted with special tools. In this case, transplantation is possible from any part of the body.
Effectiveness of hair transplantation
The effectiveness of hair transplantation is quite high. In most cases, patients notice a 60% increase of their hair density within six to nine months (up to one and a half years). Modern methods of transplantation achieve a survival rate of about 90% of follicles. There is a good chance that the hair will grow forever.
But, as with any transplant, each individual case is different. Follicles can get worse, and there is no guarantee that you will forget about the problem of hair loss.
A transplant is not equally effective for all forms of alopecia. The androgenetic and posttraumatic types of alopecia have the best results.
Contraindications
Hair transplantation is not allowed:
while under the age of 25,
with diabetes,
in the case of hair bulb shortages on the donor sites,
with high blood pressure or problems with the heart or blood vessels,
with skin diseases, especially on the stage of aggravation.
Advantages of hair transplantation
It's effective. Despite the several risks listed above, the effectiveness of transplantation is clinically proven.
This is the only option if there are no live follicles on the affected area left. Any other method will be pointless since there is nothing left to bring back to life.
It looks good. If the surgeon did everything correctly (for example, saved the individual angle of hair tilt), the newly grown hair will not differ from the old ones and there will be no visible scars on this site.
No pills will be needed. After the preoperative, operational and rehabilitation periods, the patient will have no need for any supportive therapy. The need to hide bald spots will disappear as well.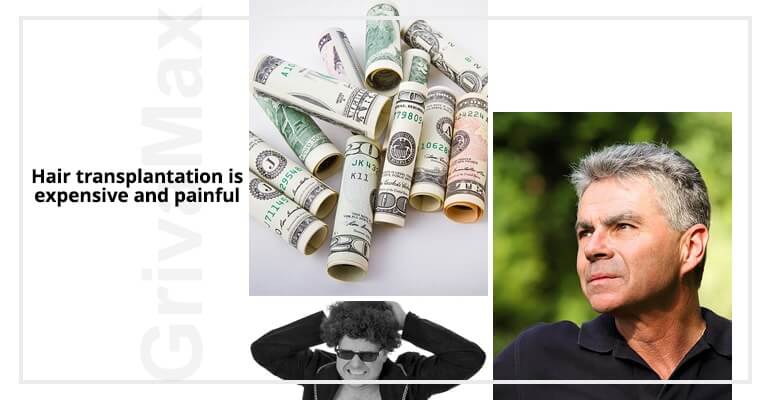 Disadvantages of hair transplantation:
Very expensive. It costs thousands and even tens of thousands of dollars – depending on the operation method and the area of the site for transplant. Most US health insurance companies don't cover this service, so be prepared for serious expenses from your own pocket.
There is no 100% guarantee of the result. We already mentioned it earlier – you may need not one, but several operations to return the restored hair to a more or less natural look, and it requires additional costs.
It takes a long time. Preparation begins six months before the operation. The operation itself lasts from one to eight hours. Rehabilitation and final hair growth will take up to a year and a half.
Uncomfortable. It is necessary to go through all the stages of the preparatory course. On the day of surgery, any activity is prohibited. Another problem is that you can't go back to work the next day: a couple of days must be spent in bandages and then you have to wait for the scars to heal. At first, the "new" skin is very vulnerable, and you will need to take special care of it.
Postoperative complications. Hair transplantation is a surgery. During surgical operations, the risk of infection increases. Even pain-killer medications won't give you complete pain relief. The strip method will leave a scar, which will have to be covered with hair that should be long enough. Even after a seamless procedure, micro scars will remain visible.
Medicines. Your body will get a fairly powerful "chemical attack". Even without special preparations for surgery, you will need anesthetics (some patients need even general anesthesia instead of the local one), sedatives, antibiotics, anti-inflammatory drugs, as well as local drugs that stimulate hair growth.
Is there any alternative?
If you still have live follicles on the problem area, think carefully before you choose to have a surgery. After all, there are other convenient methods available. In some cases, they are as effective as a surgery. We are talking about low-level laser therapy – a home device known as the GrivaMax Laser Cap.
LLLT is an effective method of hair regeneration according to clinical studies.
Laser treatment is "bloodless" and convenient: without pain, long recovery stages, sudden and unpleasant changes in appearance. The procedure can be performed during any free time that you have. You can use this portable device at any convenient place (at home, at work, on the road or during vacation). There are no restrictions on using it together with other methods of baldness treatment.
The price of the device, which will last for many years, is several times lower than a one-time surgery.
We hope that you will make the smart and correct decision.