Sunflower oil is a non-volatile substance extracted from sunflower seeds, which is used in cooking and cosmetology. The balanced composition of the product makes it one of the most beneficial and popular product for everyday life.
Sunflower is rich in vitamins A, C and E, as well as minerals such as iron and potassium. It is good for the health of the cardiovascular system, it prevents arthritis, cancer, lowers cholesterol and restores tissues.
Sunflower oil is one of the top ten healthiest foods rich in vitamins B (for example, thiamin, selenium, and phosphorus), E and copper. Many studies have shown that it has anti-inflammatory properties and it's a source of essential fatty acids.
It is important to know that the most advantageous is unrefined oil. It activates hair growth, rejuvenates cells, slows down the aging process, and helps fight hair loss. Sunflower oil restores hair after the aggressive influence of chemical dyes. It's often added to homemade or factory produced hair masks and conditioners.
Sunflower oil and hair loss
Sunflower oil can be used to treat hair loss. There are several significant advantages of this therapy:
Safety. There is no evidence of any harmful side effects of sunflower oil for scalp and hair.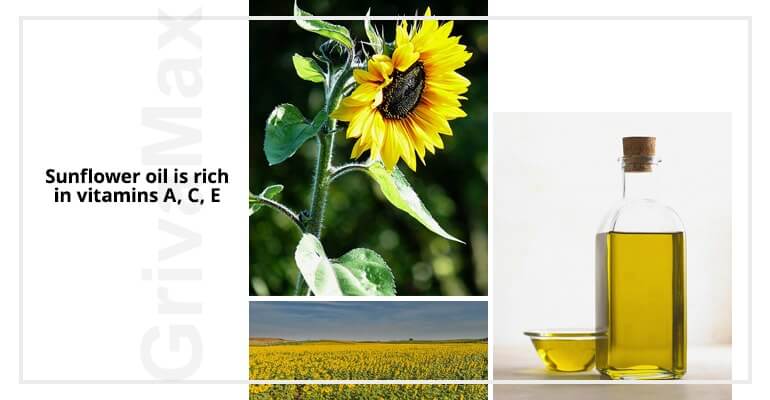 Affordable price. This natural product is easy to buy at any grocery store for cheap.
Easy to use. Unlike other oils, it can be used undiluted.
Moisturizing. The natural properties of sunflower oil help to maintain the water-electrolyte balance of the skin.
It improves circulation of lymph and blood. The oil improves blood circulation and nutrition of hair follicles.
Source of antioxidants. The oil contains antioxidants that fight against hair loss and improve the skin condition.
Diverse ingredients. Sunflower oil contains fatty acids, minerals, and vitamins, which are necessary for hair growth and scalp health.
Sunflower oil is considered one of the most accessible and natural products. It's widely available compared to other oils (coconut, almond, and olive).
It is important to know
For the better effect, it's recommended to use sunflower oil in small amounts to avoid the development of side effects. It can increase blood sugar and the risk of developing atherosclerosis (arterial disease) in people with type II diabetes. You should consider age and health conditions. Consult the doctor before using any remedy.
However, you can't rely on sunflower oil as an entirely sufficient therapy. GrivaMax Laser Cap will increase the effect of any treatment. GrivaMax is a safe and efficient solution to strengthen and restore your hair. The impact of the device is based on low-level laser therapy which allows you to get a great result without leaving home.