Baldness is pathological hair loss, which is characterized by partial or complete hair disappearance. The most common types are androgenetic, diffuse, and focal alopecia. There are three effective methods of treatment: low-level laser therapy, medicines, and hair transplantation. There is also information that red wine can help in treating baldness. Let's find out more.
Red wine is a unique drink that varies in taste, color, and aroma. It's a drink of aristocrats and can be a gift to someone. Wine can be considered a national treasure; it's used in cooking and cosmetology. This unique drink is a result of grape juice fermentation, and it has many benefits. The drink contains micro- and macronutrients, which are necessary for the proper functioning of the body's systems: zinc, potassium, magnesium, iron, chromium, copper, potassium, and rubidium.
For treatment or prevention of different conditions, red wine is used externally and internally. Studies have shown that moderate consumption of this product can improve the function of the nervous system and gastrointestinal tract. Wine reduces the risk of gynecological diseases, as well as oncology and myocardial diseases. The wine expands the vessels, improves the circulation of lymph nodes, lowers cholesterol, increases hemoglobin and the number of red blood cells. It promotes not only physical, but mental health.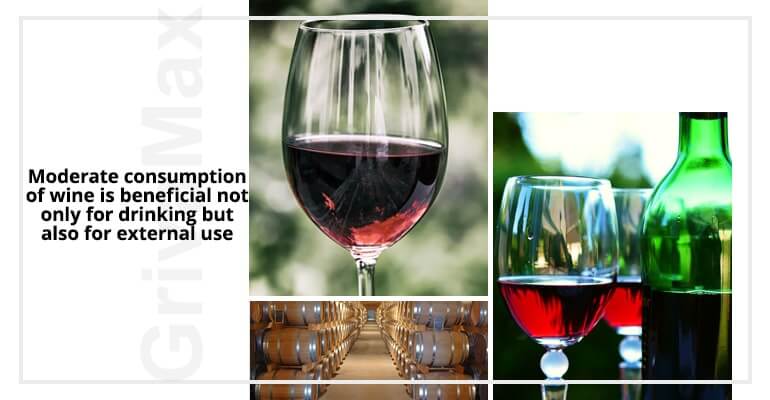 Red wine and health of hair
It has been proven that natural red wine positively influences hair follicles and blood circulation, improves hair structure, and returns natural shine and silkiness. Resveratrol is a natural antioxidant contained in grapes. It neutralizes free radicals that trigger the aging process. Resveratrol works at the cellular level and stops hair loss. Biochemists and biophysicists are sure that the antioxidant works as a medicine that is beneficial not only to diseases of the internal organs, but also the skin.
Red wine has several advantages for the health of hair:
It can protect from ultraviolet rays. Use undiluted product several times a week as a conditioner. You will not only maintain the moisture balance but also prevent brittleness.
It contains bioflavonoid, which affects keratin and protein in the hair. The nutrients in red wine help to fight aging.
There are no specific recommendations on the use of wine for hair treatment. It can be a general application to maintain the beauty of the hair, or preventive care for the treatment of baldness. The alcohol that is contained in wine acts as a cleanser. It dries out fatty strands and adds shine.
Natural red wine for hair beauty
Red wine is used as the main ingredient for making masks, conditioners, and balms. It is possible to use the product for basic care or as a natural filler.
A good result can be obtained by combining natural wine with the following products: sour cream, yolk, honey, olive, coconut or almond esters, burdock oil, cream, lemon juice and other ingredients.
Attention! All recipes can be used at home, but only on dark or light brown hair. Blonde hair can change the color due to the dyes that are contained in the wine.
It is recommended to use an integrated approach to maintain healthy and beautiful hair. GrivaMax Laser Cap is an innovative device that has been tested and has shown good results. Now everyone eliminate baldness and restore hair beauty safely at home.