According to the specialists of the American Academy of Trichology and Dermatology, an average person loses between 50 and 100 hairs every day. Even though age, stress, and hormones can contribute to hair loss, there are some bad habits that can also harm your hair.
Our hair requires constant care, just like the skin. Beauty and health rules seem to be simple, but not everyone knows how easily we can damage our hair.
Old combs
Brushes and combs for hair need constant cleaning. They accumulate skin fat, dust, and dirt, becoming a fertile environment for bacteria. Experts recommend that your brush should be cleaned from hair after each combing. Once every 3–4 weeks, you need to wash the comb in a special soda solution.
Combs made of wood or natural bone are considered the most comfortable. They don't cause the hair "electrification" and do not damage it if you use the correct combing technique.
When buying a comb for dry hair, pay attention to the tips of the teeth. They should be rounded. Do not choose a comb with painted teeth, because this coating will be quickly erased. A wooden comb has no disadvantages and works for every type of hair. They are most often made from birch, pine, or oak.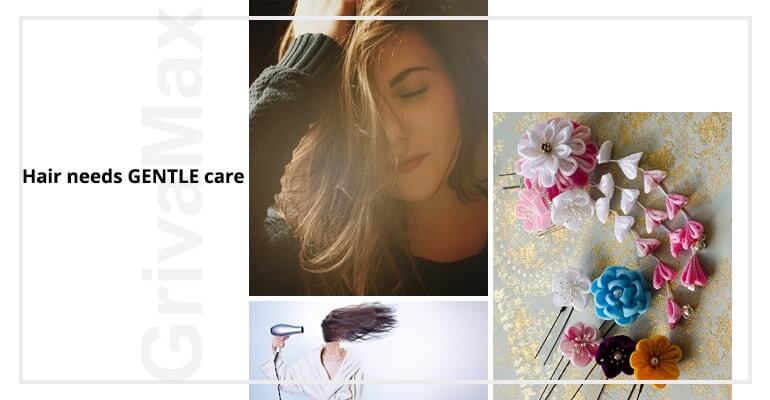 Tight hair grippers and elastic bands
You can easily assemble your hair with the help of elastic bands. It is better to buy fabrics that are thicker than 1 cm. Thin and tight elastic bands compress and pull strands, which can lead to brittleness. Trichologists advise not to wear elastic bands that have already lost their elasticity.
Elastic hair spring bands made of silicone are the best for your hair. They don't squeeze the hair and collect it in a light beam.
Chemicals
Frequent washing, chemical perm, and keratin procedures negatively affect the health of the hair. If you can't refuse these procedures, at least reduce their number to a minimum. Don't forget to apply restoring masks, and to use balm and hair conditioner. Before going to the beauty salon, let the specialist know about all the procedures that you have conducted so they can choose a more gentle way of hair dyeing or straightening.
Hairdryer
Streams of hot air deprive our strands of moisture. Frequent use of a hair dryer leads to dryness, so it is important not to use it on the highest setting while styling. Adjust the temperature of your hair dryer by directing the air flow to your hand. If you don't feel any discomfort, then the temperature is right for you. You can apply a special protecting spray, which wraps your hair and protects it from the negative influence of high temperatures.
It is important to get rid of bad habits to return the health of your hair. Don't forget about proper nutrition and care. GrivaMax Laser Cap is a low-level laser therapy with a wavelength of 650 nm. It provides a beneficial effect on the structure of the weakened hair. The device improves the lymph and blood circulation which helps to restore the hair conditions.