Laser therapy is considered to be one of the most effective methods of alopecia (hair loss) treatment. It activates the hair growth and stimulates the hair restoration process. The laser therapy course not only stops hair loss but also improves the hair quality and thickness.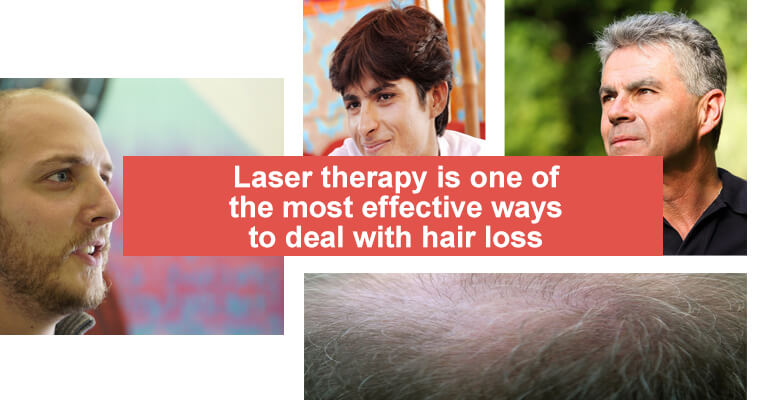 However, you can possibly find some information on the internet stating that this method is not for everyone. For example, it works well for blonde or light haired people, and won't work for brunettes or brown-haired persons. Here we gathered all the most common myths about laser therapy hair treatment and we'll try to debunk them.
Myth #1
Laser therapy of the thinning hair and alopecia is for the light-haired people only
The statement that the laser therapy is effective only for a light hair is very old. It was considered so only in the early stages of using the laser therapy as a form of hair treatment. This opinion was based on the incorrect selection of the patients for testing studies (the majority of them was light-haired). Later, it was proved that low intense laser therapy is good for all hair types and can be restricted only due to certain medical conditions.
Myth #2
Laser therapy causes a severe skin burning and pain
Unlike laser hair removal depilation, hair therapy is performed by a cold laser with a low energy potential, the absorption coefficient of the laser beam by the body tissues is also extremely low, as a result, the pain is completely absent with the absolute majority of the patients. Lasers are designed to treat hair, they are tuned for the certain wavelength and power, which provide the maximum effect with the minimal discomfort.
Particularly GrivaMax Pro 272 Laser Cap is equipped with the 272 laser diodes, which evenly cover all the surface of the head. The radiation effect is almost not felt, and the result of the therapy you can already see after 2-4 months of using it. The article about whether laser therapy is equally effective for men and women: https://www.grivamax.com/grivamax-laser-cap-equally-effective-men-women/.
Myth #3
Laser therapy is a procedure that can be performed only by the doctor
Only several years ago laser therapy was actually performed only at the doctor's office. Modern laser devices are so miniature, that you can use them any time or place that is convenient for you. You can wear it at home or at work, carrying out the procedure without interrupting your routine.
As you may see, all the previous ideas about laser therapy have lost their relevance, with the development of the new high-tech laser devices. Today, laser treatment for hair loss is an effective method to restore the hair, it is simple, safe and painless. But as any therapy, it requires consultation with the doctor and absence of any medical contraindications.