Hair analysis is a scientific study. When new cells form in the hair follicle, they capture the "traces" of substances passing through the bloodstream. As the hair grows, new cells displace the old ones, and when they come out of the bulbs, they die and harden, retaining the data on what was in the blood when they were formed. Hair can store a complete record of what passes through the body than blood or urine, which is commonly used for laboratory tests.
Hair analysis for drugs and toxins
Hair analysis is the standard medical test for arsenic poisoning, which in most cases, occurs in agricultural workers who inhale pairs containing arsenic from insecticidal aerosols or fertilizers.
Hair tests are used by law enforcement to prove or disprove the fact that someone took drugs – cocaine, marijuana, and amphetamines. The analyst checks for the presence of the substances or their metabolites (metabolic products of these substances in the body) in the hair.
Health and hair analysis
According to experts, hair analysis is one of the most unreliable and controversial diagnostic techniques when it comes to examining the health of the entire body. For example, Dr. Stephen Barrett called it "the sign of a scam," because many laboratories, health care consultants, and medical portals promise that by using hair analysis, it is possible to diagnose any diseases, from Down's syndrome to salmonella. Unscrupulous specialists often try to sell "specially developed" supplements or medicines that will not only not help but can do a lot of harm.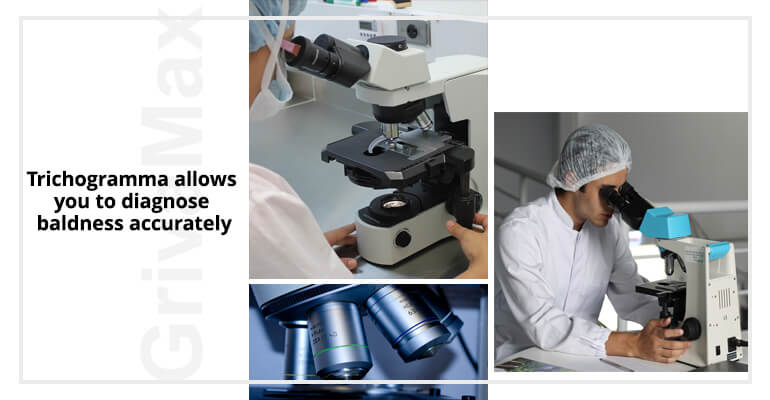 Hair analysis is not needed as a therapy. Members of the American Medical Association claim that it "will remain limited until the validation of standard clinical research methods is achieved." Until now, hair analysis is used only by toxicologists and law enforcement agencies.
Trichogram, as the main method of hair analysis
Trichogramma is a macro and microscopic examination of hair and scalp, a type of analysis that is performed using a special camera. Today, doctors use it to find out why a person has lost their hair, or how much hair is in the growth stage, rest or loss. Trichogram allows learning about the level of effectiveness of the treatment – whether there is the growth of fuzz, and whether there are other changes.
Trichogramma allows to:
Calculate the density and diameter of hair.
See the hair structure.
Estimate the level of fat content of the skin.
Detect inflammatory processes on the skin.
Determine the type of alopecia (cicatricial, non-scarred, etc).
Recognize local symptoms of dermatitis, depriving, seborrhea, etc.
Identify disorders of the sebaceous glands, etc.
A trichologist can conduct a study if the patient complains about:
Hair fragility and dryness.
Burning, itching, scaling of the skin, dandruff.
Increased hair loss.

The results of the study will help you to identify stage and type of baldness and find out the prognosis. Trichologist can detect genetic diseases of the hairline and prescribe timely treatment.